A lifetime without borders
Autobiography of Erling Soderstrom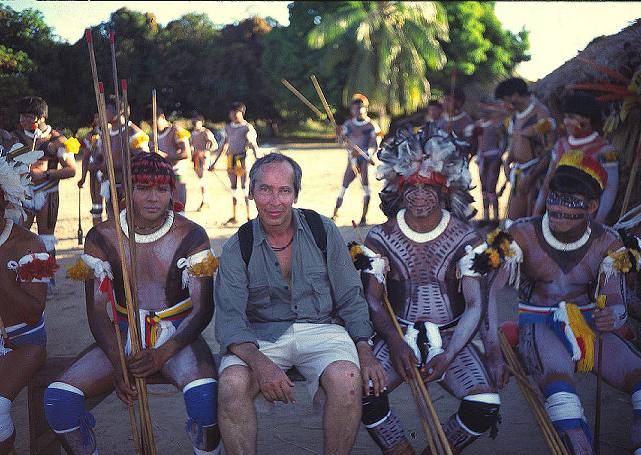 Erling Soderstrom in the Xingu with the Kamayurá Indians
I was born on a small island called Seskarö, situated in the Arctic region of the Baltic Sea. Only ten kilometers away, across the sea, was the border to Finland.
My father was a Lutheran pastor, sprung from a peasant family. He had a wandering spirit and before my birth he had volunteered to fight the Russian invasion of Finland in the winter war of 1940.
I was only a toddler when he packed the suitcases for another adventure. Our family moved to Iowa in the United States where he researched the Lutheran Church history for his doctorate in theology.
We returned to Sweden in 1958 and settled in a working class suburb called Jakobsberg, outside Stockholm.
I was never happy there and spent most of my free time wandering in the nearby forest. I became an expert on birds and wild life and and the age of nine I could recognize and name every wild bird in Sweden.
My childhood dreams were to become one day an artist and an explorer of the wilderness...
In 1966 father had packed our bags once more. Now the destination was Rhodesia (today's Zimbabwe) where he had found a job to train African Lutheran ministers in Salisbury (today's Harare). I was then 14 years old.
At that time the country was racially segregated but I had the chance to live in one of the very few ethnically mixed communities, an ecumenical religious college located outside of the town limit near a historical site of balancing rocks.
I went to a whites only boys' high school. But my friendship with African people made it impossible to accept the prevailing theory of "racial evolution" which then prevailed among my white class-mates. I quickly became an outcast.
At school I became known as the "kaffir lover".
But the African savannah, the open spaces and the wildlife I came to learn about on treks and hunting expeditions in Matabeleland and Mberengwe made a lifetime impression on me. 16 years old I had my own hunting rifle and there was nothing I loved more than exploring the rocky hills in the wildest and most unpopulated regions.
Having finished my General Certificate of Education in Ordinary and Advanced Levels, I became involved in the political struggle against the racial discriminations.
I helped to organize demonstrations and clandestinely print and spread leaflets in the African suburbs and so-called Tribal Trust Lands in the countryside against a proposed agreement for Rhodesian independance which would have garanteed white supremacy over the foreseeable future.
I was arrested and interrogated by the Rhodesian security police and in March 1972 I was served a an official deportation order and deported from the country.
I was white and lucky and got away without any injuries. Some of my African friends in the resistance movement, like the ZAPU leader Josiah Chinamano, were detained without trial in concentration camps. A few, like Edson Sithole, were assassinated.
Back in Sweden I had the task as Scandinavian representative for the united African opposition movement in Zimbabwe to lobby for support in collaboration with Edson Zvobgo who was then exiled in Canada and who later became a leading minister in Mugabe's ZANU-PF government.
In Sweden I worked closely with human rights groups like Amnesty International, the Anti-apartheid movement and the Africa Groups (An African liberation support group in Sweden).
But I had no resources for the lobbying work, I was only 20 years old and totally inexperienced in European politics. In the end I did not achieve anything of lasting value for the cause.
Instead I enrolled at university in Stockholm but once I had received a loan for my university studies I set off for new, unexplored horizons. Like so many of my generation at that time, I travelled overland to India to find my spiritual enlightenment, mixing hippie and marijuana philosophy with Eastern mysticism.
In 1973 I returned from a Buddhist ashram in the town of Budh Gaya to the cold winter in Sweden. I was not a bit wiser in my head, in fact more lost in my life than ever before.
The following autumn I began building a new home and a new "family" of friends at Sunderby People's High School of Fine Arts and Crafts, located near the Polar Circle not far from my place of birth.
It was a boarding school and the young art students formed a very close knit community of friends, some of whom still I keep contact with 30 years later.
I stayed two years at that school, learning the craft of oil painting and photography, and edited the local school magazine. Sunderbyn was at that time also a center for the logging industry and in the summer seasons I earned extra money by logging timber along the shore of the Luleĺ river.
Having finished Art School I got a job as High School teacher of Arts and Crafts in the town of Luleĺ. A year later, when the summer holidays began I was back on the river, logging the timber until the very lost piece of wood had been dispatched and the logging industry, a regional tradition, was laid down forever.
The year was 1978. I had saved some cash and longed for a new horizon and a new adventure. A cheap charter flight took me to the Canary Islands where sailboats gather in winter to set off on the transatlantic cruise.
I scouted around the ports and found a German skipper on a ten meter boat who was willing to take me on if I helped with the general chores on board.
We sailed to Barbados, where I left the ship and cruised around the Caribbean a few months with other yachts before landing in Venezuela. I later learnt that the ship I had sailed across the Atlantic was stolen and the German skipper had been arrested in Barbados!
From Venezuela I hitchhiked through the Amazon region to the Brazilian towns of Manaus, Porto Velho and Guayara Merim. It was my first encounter with the Amazon rainforest. I continued travelling through Bolivia, Argentina, Chile, Peru and Ecuador and learned a rudimentary Spanish by reading a dictionary and listening to people around me.
At that time most of Latin America was ruled by military dictators and the simple act of documenting ordinary mine workers' lives in the town of Potosi was considered a subversive activity. Elections were held in Bolivia but thwarted by a military leader, Pereda who added to the more than 300 military coups in the country's history.
In Argentina the military repression was at its top and in the town of Salta I was brutally interrogated by armed soldiers in my hotel room in the middle of the night.
In Peru I hiked along the now famous Inca trail to Macchu Pichu. I had been away a year as a poor backpack traveller and my money was running out.
Next flight to Stockholm where I landed in winter, penniless without enough money to pay the busfare from the airport into town. So how do you earn money?
A friend suggested I write about my travels in South America and so I did. I wrote about hitching across the Atlantic on stolen sailboats, about the military rule in Bolivia, and my journey through the Amazon forest. The last example was published over a double page in the Sunday edition of Sweden's biggest evening paper, Aftonbladet.
Having already learnt photography at art school, I felt encouraged to learn the craft of writing and become a journalist. I enrolled at school of Journalism in the town of Kalix in northernmost Sweden and a year later I was employed as a general reporter at one of Lapland's regional papers.
But over nine years I had intensely yearned to return to what I then considered my real home, Zimbabwe.
In 1981 I applied for and received a journalist grant from the Swedish Cooperation SIDA to return to Zimbabwe and report on the land reforms. The African liberation war was over and the country had just achieved its independance under the leadership of Robert Mugabe. My dream was about to become true.
I flew to Zimbabwe and began working as a freelance reporter with the financial grant in my pocket. During the following months I investigated the land reforms or lack of them, but also the rising corruption.
Some of my friends from the underground resistance movement had now settled in powerful positions. Edson Zvobgo and Josiah Chinamano were now government ministers. Didymus Mutasa was speaker in Parliament. Canaan Banana had become the country's president.
Already in the first year of office the African academics returning from exile had joined the scramble for power and affluence. They acquired big homes, giant farms and personal privileges and there was nothing left of our ancient dream of freedom and equality.
Zimbabwe's media was tightly controlled and I soon discovered that the repressive security laws from the time of Ian Smith white minority rule were still intact and applied, stifling popular criticism and investigative journalism.
In Matabeleland the ruthless paratroopers from the Fifth Brigade had initiated a violent witch-hunt for "dissidents". The following year information began seeping out to world media about their extensive massacres of Ndbele civilians.
I realized Zimbabwe could not become my home, not as long as you still had to fear security police and speak in low voices about political leaders. The repression had only swapped pigmentation.
"Zimbabwe icha sununguka" I had shouted when demonstrating as a young man in Harare. Zimbabwe shall be free. 30 years later I and Zimbabwe's people still nourish that dream.
I returned to Sweden after a year and resumed my work as a photographer and journalist in Lapland. But in 1984 a woman from Paris turned my life upside down. I had met Elisabeth when sailing in the Caribbean and we had travelled together in South America, but separated in Peru.
This particular year I invited her on my sailing boat in Sweden over summer. When the holidays were over I was deeply in love. There was no doubt in my mind. I resigned from my job, left my flat, packed five suitcases and took the train to France.
My knowledge of the language and the country was rudimentary. I had not even seen the apartment we were going to live in and I had no contracted job except a vague idea of writing and taking photos for Swedish media.
I was fortunate. My French quickly improved since I lived with the language round the clock and I discovered there was a wide market potential in international reportage for Swedish media.
After only a few months I was settled and my time was filled with commissioned media work. Initially trade union magazines were my main breadline.
In 1987 I began producing reports on French and EU politics for the Swedish public radio channel Riksradion. The work led me to travel in many European countries.
Those were golden days.
I had so much work I could practically choose any destination and after only a few days on the phone I had filled my order list of reportage for the next two or three months.
Paris was an excellent place for a journalist to be, a heavy-weight in the new European Union about to be formed and filled with frequent conflicts, labour unrest, political scandals and piquant cultural specialties.
Sweden's leading business Magazine Veckans Affärer recruited me as correspondent and I learned to cover the corporate and financial news in France.
But as time wore on I became increasingly bored with bread and butter jobs from Western Europe. Paris began to appear too close and too easy. I realized I hardly reacted to events which fresh foreign correspondents or visiting journalists could turn into big headlines.
A big change came when the Wall broke down between the East and the West.
The following month, in December 1989 all hell broke lose in Roumania. Like so many other Europeans I sat watching the images of victims in the town of Timisoara (which we later learnt were constructed propaganda images) and felt deeply concerned.
I had promised Elisabeth I would go nowhere during the festivals but as we had prepared the dinner and champagne on Christmas Eve I received a phone call from the aid organisation Médecins du Monde. "Two hours from now we are flying blood plasma to hospitals in Roumania. There is a seat for you if you wish to accompany us."
With a bad conscience I packed my bags and cameras and Elisabeth drove me to the airport. A few hours later I was on the streets of Bucarest, ducking low to avoid the sniper fire and trying to find my way to Hotel Intercontinental where most journalists were lodged.
During ten very dramatic days I followed the joys and tragedies of the Roumanian uprising. I was the first Scandinavian reporter on the spot when the fighting began and I read my reports over the phone to national radio and the news desk of Swedish Television. Apparently my live reports touched a very large audience in Sweden.
Two months later I returned with the first team of Red Cross to inspect the mental hospitals and children's homes in Northern Roumania.
We discovered a living hell on Earth and I wrote for the Red Cross Magazine, but national radio and television were not interested. They told me there had been too much of Roumania for too long in the media.
Six months later a BBC program showed the Roumanian children's plight and Sweden's daily paper Svenska Dagbladet sent their own teams to write four-page stories from the very same mental hospitals and children's homes I had previously visited.
In April 1990 I went to Brazil and spent a few weeks in Rio for a story on death squads of policemen and professional killers who assassinate street children and suspected adolescent delinquents.
Two months later Amnesty International published a report on the same theme which drew world attention. My material was broadcast over the Swedish national radio and published in the Save the Children magazine.
The public reaction was strong. In a country with nine million inhabitants more than 200 000 people signed an appeal published next to my article against the violence.The appeals were later handed to the Brazilian president.
I also dug up an extensive story on forced labour at distant private farms, where ranchers used hired gun-men to control their work force and assassinate trade union leaders.
This was another high risk job in close collaboration with the Catholic priest Ricardo Rezende who was later awarded a prize in Britain for his anti-slavery campaign.
During the same trip to Brazil I met the main character of my book, Sydney Possuelo, who brought me to the last nomadic Indian tribe, the Awŕ.
The same year the first private television channel was launched in Sweden. I was recruited as Paris correspondant for the news, largely for the impact of my reports during the Roumanian uprising.
In September I was in Alaska, at the northernmost tip of the American continent in the Inuit town called Barrows to collect information on the environment for Swedish radio and Greenpeace magazine.
The first Gulf war was in preparation and I had an excellent opening to follow the war with the Kurdish people who had been fighting Saddam Hussein over many years. I felt some media eye should be there to complement what the correspondents did in Riyad and Bagdad.
I called the news desk at TV4 and asked for a camera man, but the director of the foreign desk turned my offer down. He had made the decision to send all teams to Saudi Arabia.
What happened later is now history. When the allied forces withdrew Saddam took his revenge on the Kurds. And during two weeks there were no images at all from the front where hundreds of thousands of Kurds were fleeing the terror.
I realized I needed my own television camera to be independant and able to show the reality behind what I had viewed. Lacking sufficient finances I bought a S-VHS camera and instead of covering the Gulf war I went to another front.
With Burmese guerillas I crossed the Thai border to film their resistance. I made the right contacts and after a month of tense waiting I managed to enter the hidden camp of the world's biggest heroin producer, the warlord Khun Sa.
I filmed the opium production and Khun Sa's forced recruitment of child soldiers. I was evicted from their camp after only three days but I had the reels. And more than anything else, I was alive!
The reels were edited into a half hour reportage and broadcast by Swedish television SVT. That was my my first fully owned TV production. Looking back, I think the film was a mess. Definitely no showpiece of narration or camera work.
Back in Paris I continued writing commissioned stories about France and doing news flashes for TV4. But by the end of the year I received a call from Greenpeace, asking me if I wanted to join their expedition to Antarctica. "No thank you" I replied, hesistant about what story I would make and who would buy it.
But a week later I realized it was a unique chance to discover the frozen continent and I called back. "Is your offer is still valid? If so, I am with you!"
The three months long expedition aboard the Greenpeace ship "Gondwana" took me from New Zeeland thorugh the packice to the Ross ice shelf on the Antarctic continent.
There, only 50 meters from Robert Scott's ancient expedition lodge, Greenpeace had erected a temporary base to monitor the environment and press for an international agreement for Antarctica to become a protected world park.
Passing south across the latitudes of the Screaming Sixties I had a first hand taste of the greatest storms and waves I have seen in my life. At the same time I passed the geographical opposite end from where I was born. On this planet I could no longer go any further away from home.
To me it was like a physical proof of our shrinking world and I realized how geographical distances have become unimportant. 500 years after Christoffer Columbus any real discovery must be sought elsewhere, in the meeting between people. And the biggest challenge I could face was to enter a totally unknown human culture.
I recorded my Antarctic expedition with the old amateur S-VHS camera and in spite of the low technical quality it became two half hours television films about ancient explorers and today's human impact on the frozen continent. This was followed by a dozen articles in different printed magazines and radio.
in autumn 1992, I set my sights on Tibet. I visited the Tibetan refugees in Dharamsala and met the Dalai Lama before crossing the Himalayan mountains from Nepal into Tibet. A secret accreditation by Dalai Lama's office and a small picture of me holding hands with the Tibetan leader served as an introduction.
My mission was to film and document human rights and after ten days of playing hide-and-seek with Chinese security police I returned with a sack of horrifying testimonies.
It was in the nick of time to present my material before the People's Tribunal in Strasbourg. Of my rushes I edited a 20 minute film, FORBIDDEN FLAG, which was broadcast over Sweden and Finland.
I was one of the first journalists to report on Chinese repression in Tibet. Regrettably I and the many colleagues who followed me have not had any influence on the Chinese regime's respect for human rights.
In April 1993, I was back in the Himalayan range, this time to record an adventure program for Sweden. 40 years had gone since Edmund Hillary had reached the summit of Mount Everest and I met the aging, famous mountaineer in his home in Katmandu. I was looking forward to record from the vast space at the top of the world.
I reached the Everest base camp after a week long trek from the little mountain town of Lukla, gasping for oxygen at an altitude of 5400 meters.
Rebecca Stevens from the British team lent me her ice pick and crampons to climb the 1000 meter high icefall that rises from the base camp. I wanted to be up on the heights of the icy crevasses to get the best images.
As the morning dawned and the early expedition parties set out to climb the mountain. I was coughing from bronchitis, I had no training in ice climbing.
I had reached my own physical limit. I humbly returned the equipment to Rebecca and headed down to lower lands.
When I called her later in Europe, I learned that she had succeded. She became Britain's first woman to reach the summit of Everest and received an intense media attention upon her return to England.
In 1994 I set up my own French production company IMAGE DIMENSION and acquired my own professional video recording equipment.
I had been in Morocco for Amnesty International to report on secret political prison camps. I considered the theme to be well suited for to television. But I had already received death threats from Morroccan security officers, and I knew I would be closely watched if I ever returned.
I had my video camera smuggled into Morocco by a feature film company crew who were preparing a shoot near the town of Ouarzazate. I knew exactly where the prisons were.
I managed to secretly record the exteriors from select angles of hotel rooms and interview the few surviving victims in clandestine nightly meetings in Casablanca.
The tapes were smuggled out of Morocco across the Gibraltar straights by a friend who acted as a courier. In Stockholm I edited a 25 minute film entitled "Death Camps in the Desert".
It was shown in Sweden, Finland and Spain and for once I felt there was some meaning in pursuing my profession. Two weeks after the Spanish broadcast 400 political prisoners were released.
The following year I received a special call from the Chief Editor of the Swedish magazine Café. "Erling, can you take an assignment? We are searching for a professional reporter who is prepared to go into the war in Bosnia."
The town of Srebrenica had just fallen and 8000 men had been massacred by Serbian troops. With a well paid magazine assignment in my pocket I prepared to add a tight story for television.
But the night before my departure my assistant and cameraman backed away. After a moment's reflection I left the TV camera at home. I was not heading alone with all that heavy equipment into a war in a country where I had never been and had no contacts. Rather go light, easy and very mobile for press and radio.
In Zagreb I quickly received my U.N press card to accompany the multinational battalions. But where do you find a bullet proof vest?
United Nations regulations required me to have a vest and a helmet.
I found an old US Vietnam helmet in a second hand store but there was no bullet protection to buy anywhere.
And rental cars in the war required a security equivalent to the price for buying a brand new car. Bulletproof cars were rented for 1200 dollars per day.
I chose to hitch-hike through the country, hoping that I would never need more protection than my old Vietnam helmet could offer.
Crouching under grenade attacks in Mostar and Tuzla, I recorded the ugly face of a genocidal war and listened to the stories of the survivors. I returned home alive, but shaken.
The magazine article was published under the heading "THE HITCH-HIKER'S GUIDE TO WAR". But as for myself, I had now had enough of war and human misery.
Attempting a new path with my Samě friend and film director Paul-Anders Simma I co-directed a 25 minute creative documentary comedy about two dogs who live entirely different lives in Lapland and Paris.
"DOG'S LIFE" was recorded on Super-16 film, blown up to 35 mm and shown as a prelude film on Scandinavian cinema and later broadcast on television in Finland, Denmark and Sweden. The film was praised by the critics.
In 1996 I set off into another unknown world in the Amazon on the expedition led by Brazil's director of the Department of Isolated Indians, Sydney Possuelo. The mission was to make a first contact with the Korubo Indians Since then, in numerous travels and more expeditions I have continued to explore the limits of the same frontiers.
In 1997 I had finished my film about the first contact with the Korubo people, entitled JUNGLE CLUB. I then returned to what I had once considered my home country, Zimbabwe.
I found an increased corruption and a tightened control on media and political opposition. 17 years after the war of independance, Zimbabwe had a new enemy. In some regions almost half the adult women were infected with HIV. Attending burials of friends and family who had deceased in aids had become the primary cause of absence from work. Half a million children were orphans of aids.
Next year I was back in Brazil for a theme I had covered eight years earlier, the violence and killing of adolescents. This time I worked for a Children's rights organisation called BARNENS VÄRLD.
I documented the lives and violence against street kids and assassinations perpetrated by police officers in the town of Maceio, the living conditions of the black adolescents in Salvador and child labour on the sugar cane plantations.
Back in Europe my film on the Korubo Indians was shown on Swedish television where it made an all time high on audience for the environmental slot. At the international film festival in Prague it was awarded a prize as the world's best environmental film.
The same year I returned to Morocco together with the Brazilian expert on uncontacted Indians, Sydney Possuelo, but this time as an invited guest to a conference about the Amazon forest held in Casablanca.
The trip ended in a near-fatal accident in the desert which left Sydney with deep wounds and a long and painful period of convalescence.
By 1999 I was once more in Brazil, now to record a story about the cocaine traffic in the rainforest region of Brazil, Peru and Colombia. It became a 52 minute documentary film distributed by EssentialTV.
A few months later I accompanied Sydney on the Quixito expedition and recorded a documentary film for Discovery Channel US and Docstar in France.
I returned to Colombia to investigate a story about the world's biggest serial killer for the Swedish magazine Café. Being close to the Brazilian border, from there I made several visits to Tabatinga and followed Sydney Possuelo in his actions with the Korubo Indians.
The same year I visited the Kamayurŕ Indians in the Xingu Reservation who have become good friends since my trip to Morocco and who know me by my Indian name "White Flower".
In November the organization for children's Rights I had previously worked for assigned me to document refugee children and the Children's Peace Movement in Colombia.
The Swedish Queen was about to discern an international Children's Prize and it was my job to provide the base information about the candidates for this ceremony.
I went out to the worst zones in Cordobŕ and Urubŕ, Medelllin and Bogota as a single-handed multimedia machine, combining photography, video recordings and interviews for magazine, Internet and television.
In the Brazilian town of Tabatinga I also accompanied Sydney Possuelo in a twin-engined aircraft to search and find more isolated Indian settlements. We returned together to the Korubo Indians just after they had slain three loggers.
In January 2001 I was back in the Colombian violence once more, now commissioned by trade union owned magazines to report on the violence against trade union leaders. 402 trade unionists had been assassinated in the previous year.
Sydney began to prepare the Ajuricaba expedition and in 2001 we were ready for this Odyssey into the lands of the unknown Indians.
After the expedition, back in Paris I spent a long time seeking finances for my documentary film, THE HIDDEN TRIBES OF THE AMAZON.
In the summer of 2002 I had had enough and liquidated my company.
A month later I returned to Brazil deep into the jungle of the Xingu forest and tied my hammock inside the hut of my Kamayurŕ Indian friend, the shaman Tacuma.
But when I was in the jungle my film project received the garanteed financing I had needed. So in November 2002 I was back in Paris, editing my film. Only hours after the final edit was finished the film was presented at the international film festival JULES VERNE. There I won the Special Award of the jury.
In January and February 2003 the film was broadcast by the channel France 5. It touched a record audience, the highest ever for a documentary film on a Saturday.
Following the success of the film I spent two months in Panama and Costa Rica with my thoughts, memories, records and a laptop computer.
And slowly, at a horse ranch on the foot of a volcano in a natural park in Costa Rica, my book about our expeditions and the unknown Amazon Indians became a reality.
Returning to Europe, in April 2003 I was invited to the film festival, ADVENTURE AND DISCOVERY in the French ski station Val d'Isère. There my film was awarded a double prize, including the First Prize, "Aigle d'Or".
Erling Söderström